News
Russian air defence 'shoots down missile over Crimea'
The Russian-installed head of Sevastopol in Russian-annexed Crimea has said air defence forces were fending off an aerial attack over the peninsula.
"Our military is repelling a missile attack. According to preliminary data, air defence shot down one missile near the Belbek airfield. Work continues," Moscow-installed governor of Sevastopol Mikhail Razvozhayev said on Telegram.
Ukraine has targeted Crimea throughout Russia's offensive but attacks on military installations there have recently intensified as Kyiv vows to recapture the peninsula, which Moscow annexed in 2014.
Authorities had declared an air raid alert across the region, Mr Razvozhayev said on Telegram at 8.57pm local time (6.57pm Irish time).
About an hour later, Mr Razvozhayev announced the air raid alert was over on Telegram.
Russian air defences also saw action in the region of Belgorod bordering Ukraine, over which seven Ukrainian drones were destroyed, the Russian defence ministry wrote on Telegram.
A preliminary account suggested there were no casualties in Belgorod, regional governor Vyacheslav Gladkov said.
Attacks on Russian territory, which were rare at the beginning of the offensive, have intensified in recent months, with Kyiv increasingly claiming responsibility.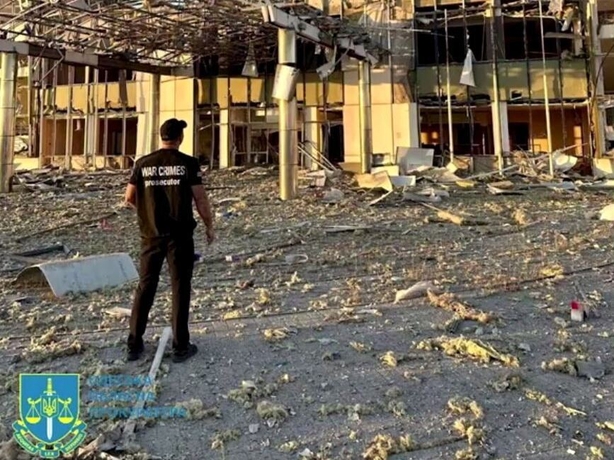 Earlier, Ukrainian officials said the country's forces killed the commander of Russia's Black Sea fleet in an unprecedented missile strike on the naval headquarters in the peninsula last week.
It marked a major blow for Moscow, which has suffered a string of attacks at Sevastopol in recent months.
"Thirty-four officers were killed, including the commander of the Black Sea fleet. Another 105 occupiers were wounded," Ukraine's special forces said in a statement on social media.
The strike on Friday sent plumes of black smoke billowing from the building in central Sevastopol.
"The headquarters are beyond repair," the special forces added in the statement.
Russia's defence ministry said on the day of the attack that one serviceman was missing, after having initially reported that one person had been killed.
Russian air strikes on Ukraine kill four, damage grain and port facilities
Meanwhile, Russian air strikes killed four people in Ukraine and caused "significant damage" to infrastructure at the Black Sea port of Odesa and to grain storage facilities, Ukrainian officials said.
The attacks were part of an air campaign that has made it harder for major grain producer Ukraine to export its products since Moscow quit a deal in mid-July that had enabled Black Sea shipments and helped combat a global food crisis.
The strikes have intensified as Kyiv presses on with a counteroffensive in the south and east that has made slow gains but could be boosted by the delivery of US-made Abrams tanks, announced by President Volodymyr Zelensky.
"Another massive attack on Odesa!", Economy Minister Yulia Svyrydenko said on X. "The attack resulted in the destruction of grain storage facilities and significant damage to the seaport."
Oleh Kiper, the Odesa region governor, said the facilities that were hit had contained almost 1,000 tons of grain and that the bodies of two men were found under the rubble of a warehouse where grain was stored.
Ukraine's military said 19 Iranian-made Shahed drones and 11 cruise missiles were shot down overnight, most of them directed at Odesa region. The grain storage facilities that were destroyed were hit by two supersonic missiles, it said.
The energy ministry said damage to power grids cut off power to more than 1,000 consumers in the Odesa region, a reminder of air strikes that at times left millions of Ukrainians without heating and light in the freezing cold last winter.
A man aged 73 and a woman of 70 were killed in a separate air strike on the town of Beryslav in the southern Kherson region, officials said.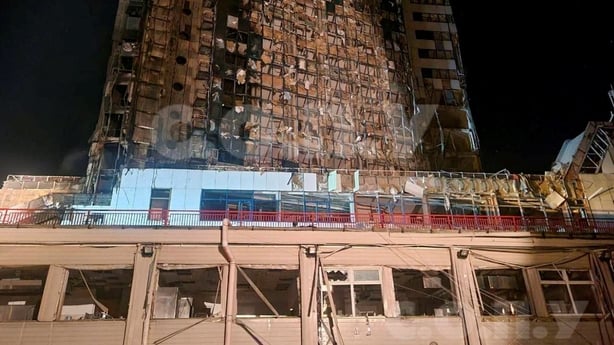 Drones shot down
The Ukrainian Defence Ministry said the latest attack was "a pathetic attempt" to retaliate for a strike on the headquarters of Russia's Black Sea navy on Friday.
Ukraine has been heavily reliant on Western weapons to defend itself against Russia and then to hit back in the counteroffensive that began in early June.
Announcing the latest arms delivery, Mr Zelensky said Abrams tanks had already arrived in Ukraine and were being prepared for action.
"I am grateful to our allies for fulfilling the agreements! We are looking for new contracts and expanding our supply geography," said Mr Zelensky, who visited the US last week.
Ukraine's counterattack has included stepping up its attacks which Moscow says have hit targets in Russia and Crimea, the peninsula seized and annexed by Moscow in 2014.
The Russian Defence Ministry said its air defences had shot down drones over the northwestern part of the Black Sea, over Crimea, and over the Russian regions of Kursk and Belgorod regions. It mentioned no deaths.
Kyiv did not comment on the Russian reports, and Moscow offered no comment on the air strikes in Ukraine.
Kyiv says the air strikes against port and grain facilities are intended to prevent it exporting grain to the world, and global traders follow them closely for fear of further disruption to world markets.
Ukraine is increasingly shipping grain along the Danube River, by road and by train, and has established a "humanitarian corridor" hugging the Black Sea coast to ship grain for African and Asian markets. The first two vessels carrying grain to use the corridor left the Black Sea port of Chornomorsk last week.