News
Russia loses bid for seat on UN Human Rights body
Russia's attempt to re-join the UN's Human Rights Council failed yesterday, following a vote held in the UN General Assembly in New York.
But China secured a seat for another three-year-term, beginning in January 2024, despite UN findings on its human rights abuses, published last year.
The Russian Federation was ejected from the Geneva-based body following its invasion of Ukraine.
Yesterday's secret ballot saw Russia receive just 83 votes, in a defeat one Security Council diplomat described as "resounding."
"UN member states sent a strong signal to Russia's leadership that a government responsible for countless war crimes and crimes against humanity doesn't belong on the Human Rights Council," said Louis Charbonneau, UN director at Human Rights Watch.
While the number of votes fell short of the 97 needed to be elected, it did show Russia wasn't entirely isolated at the UN either.
A buffet and drinks reception held at the Russian Mission to the United Nations to mark Russia's candidacy last week, was attended by several UN diplomats, who said they planned to cast their vote for Russia.
The reception was on the same day that 52 people were killed in a Russian missile attack on the Ukrainian town of Hroza.
Russia's envoy to the UN, Vassily Nebenzia, told diplomats at the gathering that the Human Rights Council "must be protected from misuse as a tool for settling political scores," in a reference to Western states.
Russia's Deputy Ambassador, Dmitry Polyanskiy, told RTÉ News he was confident that they would secure a seat.
But after losing out yesterday, the Russian mission to the United Nations accused the United States of intense lobbying against them.
China wins
The election is divided into four geographical regions. In the Eastern European region, Russia was up against Bulgaria and Albania, both of which won a seat.
But in the Asia-Pacific region, China's stood unopposed, alongside Japan, Indonesia, Kuwait for four seats.
China received 154 votes which, although lower than the others, signalled substantial support, despite UN condemnation of its human rights violations.
In 2022, the UN's Human Rights office issued a damning report, which found China responsible for serious human rights abuses against Uyghur and other minorities which "may constitute crimes against humanity" in its far-western province of Xinjiang.
The report was published by the former UN Human Rights Commissioner, Michelle Bachelet, on her final day in office following a long-awaited visit to the Xinjiang region, and despite pressure from China to bury it.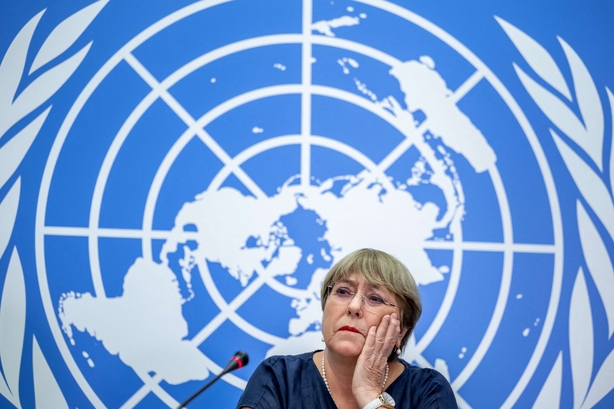 Her successor, Volker Turk, has indicated he will follow up on Ms Bachelet's report.
The Uyghur Human Rights Project, a campaign group, wrote on social media, "crimes against humanity and genocide [are] apparently not disqualifying actions for UN's top human rights body."
Before yesterday's election, human rights groups had encouraged member states to leave their ballot blank, rather than vote for China.
But China's uncontested position meant it was likely to be a shoo-in, raising concerns about non-competitive voting in the UN system.
"China came in last place in the Asia group. That suggests that if there had been competition in the Asian slate, China would have lost."
"It highlights the vital importance of competitive slates in UN elections," Mr Charbonneau, of Human Rights Watch said.
Rights groups also condemned the election of Burundi and Cuba, in the Africa and Latin America regional slates, whose "abysmal human rights records should have disqualified them."
Asked if the election of documented human rights abusers undermined the credibility of the UN's Human Rights Council, a spokesperson for the UN Secretary-General, said that the vote in the General Assembly meant that all the countries elected to the Human Rights Council by member states had earned "the right to be there."
But countries on the council were "themselves obliged to open up their own records for evaluation of their human rights," said the spokesperson, Farhan Haq.
Asked by RTÉ News how exactly countries can be compelled to open their human rights record to scrutiny, a spokesperson for the President of the General Assembly said that would be the work of the Human Rights Council itself.
The council holds periodic review sessions where countries examine each other's human rights records.
However, the council does not have legally binding powers.