News
Relatives of missing Irish-Israeli woman 'devastated'
The Irish relatives of an Irish-Israeli woman unaccounted for in Israel have described her as "gorgeous, bright and intelligent with a big heart full of kindness and compassion".
Kim Damti, 22, was at a music event in Re'im in the south of Israel when she was last seen, and the Department of Foreign Affairs has been in touch with her family.
Hamas militants killed around 250 people who attended the festival in an Israeli community near Gaza over the weekend.
The music festival was attended by several hundred people, witnesses said, when Hamas gunmen opened fire.
In a statement issued through her aunt Pat Cooper from Co Laois this evening, the family said they are devastated and "for now all we have is hope".
Ms Cooper said her niece visited Ireland just this summer to celebrate the family wedding of her cousin Alan.
She said the "whole Cooper clan, their neighbours and friends are devastated and for now all we have is hope".
"Our hearts and minds are in Israel with Jennifer's family and Kim's friends," the statement said.
The family said they have nothing further to add.
President Michael D Higgins has said his thoughts are with Ms Damti's family.
Appeal for Irish Government to intervene
An Irishman living in Israel has appealed to the Irish Government to put whatever pressure it can on Hamas to release those it has taken hostage.
Rob Simmonds, an Irish citizen who has lived in Tel Aviv since 2014, told RTÉ News that his cousin's son is among those missing.
30-year-old Dor Shafir along with his girlfriend, Savion Kiper, were both attending the music festival at Re'im and neither have been heard from since Saturday morning.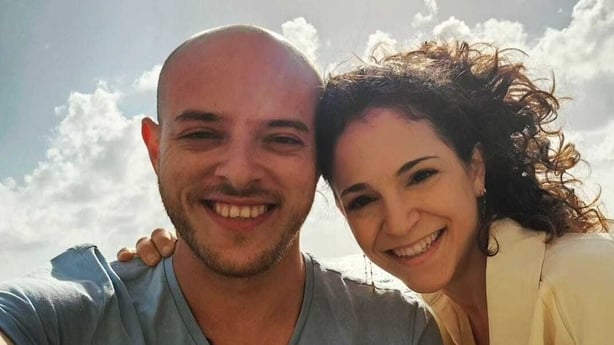 He said Dor was last in contact with his mother at 7am on Saturday telling her of the attack, saying they were running to the car for safety. His phone was turned off at 11.30am.
Mr Simmonds has described the attack as horrific.
"We are calling on the Irish government to assert whatever pressure can be put on Hamas, who are holding these hostages, to release civilians who are in captivity.
"To find other means to achieve whatever they are trying to achieve. There's very little the Israeli government can do to help these civilians just now and there needs to be pressure from the international community".
Additional reporting: Conor Hunt